How to Use The Facebook Spreadsheet Report for Multiple Facebook Accounts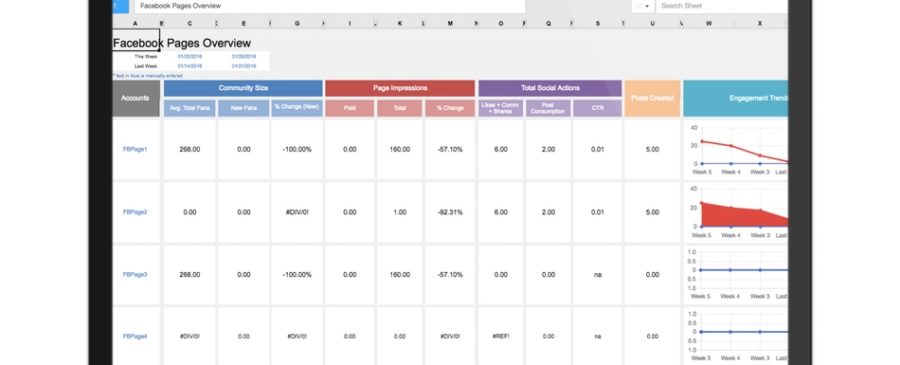 ABSTRACT: The Automated Facebook Spreadsheet Report for Multiple Facebook Accounts (pages and posts) was built for organizations wanting to pull critical information from multiple Facebook accounts into one place. This spreadsheet template can pull information automatically from over 10 different Facebook Pages and Post accounts and summarizes it all through a dashboard view and 10 individual account reports. The beautiful template has saved marketers over 80 hours per employee per month. The instructions below indicate a step-by-step guide to understanding this versatile template and dashboard found here: https://factivate.com/automated-spreadsheet-template-marketplace/facebook-spreadsheet-template-multiple-facebook-pages/
Prior to getting this file, make sure you've been able to review the public view of the template and copy it (FILE > DUPLICATE) into your own Factivate account. The public view of the blank Facebook KPIs spreadsheet template can be found here: https://app.factivate.com/spreadsheets/3c7a0e27f0fe41b49837f0be63bfc125
How to Connect your Facebook Spreadsheet Report to automatically pull data from multiple Facebook Accounts in less than 2 minutes
After you've copied and added the template to your account (FILE>Duplicate), you will notice that the dashboard and each tab contains no data. This is because you have not connected your accounts to each Facebook Data sources.
To connect your template to your multiple Facebook accounts, you will need to connect to a Facebook Posts and Facebook Page per account.
Be sure to follow these steps: if you want to pull data from your Acme Company account, you will need to connect Acme company to FBPage1 and FBPosts1 (notice that these blue tabs are next to each other). Then, you will notice that the data will flow into the Client1FBPage tab and then it will flow in the dashboard to the FBPage1 line on line 9. All you need to do is rename your account on A9 from FBPage1 to Acme company and then you'll be done.
You will need to repeat this exact same process for the remaining 9 accounts and make sure that the tab number (ie, Posts2 and Page2) are for the exact account. Disregarding this information will mess up the references and calculations.
If you want to add more accounts, simply duplicate each one of the blue tabs for Post and Page and then write the formulas in the Dashboard to reflect the new "blue" tab references.
If you need help connecting your account, you can view a video guide below:
Understanding your individual account tabs titled "Client#FBPage"
Each of these 10 tabs provides a view into an individual account. In spreadsheet language, all of the formulas reference the "blue tabs" for the account number (ie, Client1FBPage references the blue FBPage1 and FBPosts1.
The tab itself provides an automated report view of your page and post organic activities in a 14 day period. Note that you can change these dates on M2, O2, M3, and O3 to be any date comparison.
This spreadsheet tab displays Posts KPIs by sorting them with the most engaged users to the least. The list is set to display 99 posts MAX. We find that analyzing more than 100 posts per 14 days can be overwhelming for some people but you are free to change this number. If you would like more or less posts displayed, go to cell D29 and edit the formula
=LARGE(DS(FBPostsAcct1!'Post Description':'Post Description',AND([@Post Date]>=$M$2,[@Post Date]<=$O$1),[@Post Engaged Users]),99)
All you have to do is change the number 99 to whatever number you wish. So if you want 50 posts listed, your formula would read:
=LARGE(DS(FBPostsAcct1!'Post Description':'Post Description',AND([@Post Date]>=$M$2,[@Post Date]<=$O$1),[@Post Engaged Users]),50)
There are a few calculated metrics that you should note which Facebook does not provide; this includes CTR. This is a calculated metric that looks at Link clicks, photo views, and video clicks as variables for its formula since these link click types are directly correlated to engagement.
Conclusion
The Automated Facebook Spreadsheet Report for Multiple Facebook Accounts with individual account reports and a beautiful dashboard was built to help you aggregate and analyze your Facebook data and become a better Facebook marketer. We hope the template helps you become a great Facebook marketer instantaneously. Please email us at [email protected] if you have any questions or leave a comment below.
For additional Facebook templates built for marketers, please visit the Factivate Spreadsheet Template Marketplace